Our kids disposable face masks contain 3 layers: an inner soft absorbent non-woven fabric, a middle melt-blown material that acts as a filter and an outer hydrophobic non-woven fabric. A 3D curved design provides both secure fit and 360o protection. Comfortable and easy to breathe. The particle filtration efficiency (PFE) is ≥90% and the bacterial filtration efficiency (BFE) is ≥95%. These are NOT surgical masks and NOT for medical use. It is not intended as a replacement for medical-grade personal protective equipment. Please follow other recommended measures to stop the community spread of any viruses including keeping social distancing, washing hands and refraining from touching your face.
SUREBLUE 3D Disposable Childeren Face Mask was developed and produced in comply with standard, offering extraordinary comfort and breathability, giving a reliable protection for pollen, Dust, Anaphylactogen, PM2.5, Droplet and bacterial being circulated in daily life talk, sneezes, coughs, hazardous fluids, large droplets, splashes, sprays.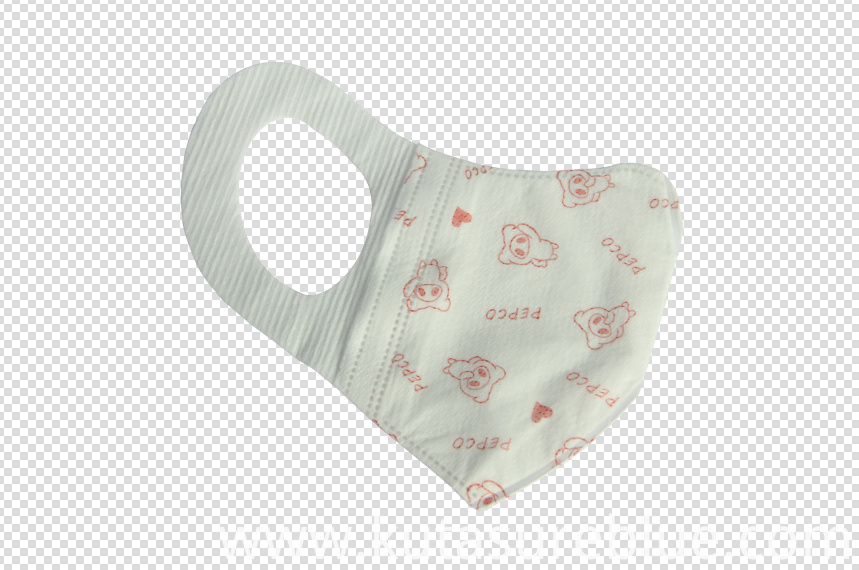 Features:
Ø Super comfort.
Ø Extraordinary breathability, Stay cool.
Ø Less distraction and help focusing on your performance.
v 11. outer non-woven layer: Splash resistance to any spray, flash, droplet.
v 22. layer: High Effective filter layer.
v 33. Inner layer: Comfortable skin-friendly Elecrospinning fabric layer to ensure comfort touch on face skin and maintain cool.
| | |
| --- | --- |
| Product: | 3D Children Face flat Mask, ear-loop, |
| Code: | 33005A |
| Shape: | Plain Mask |
| Color: | White |
| Mask- Material: | Nonwoven + Meltblown nonwoven filter + Elecrospinning Nonwoven. |
| NoseClip: | Concealed PE+ aluminum nose-clip for good customized fit. |
| size: | 145 x 90mm. |
| Application: | hygiene, cleaning, clean-room, laboratory, mist, food processing/packing, cosmetology and hairdressing, beauty parlor, daily use, also for food processing/packing, cosmetology and hairdressing, |
| Package: | 50pcs in Oppbag, 50Pcs/Box, 40Box/Ctn=2000pcs/Carton |
| BFE: | ≥95% |